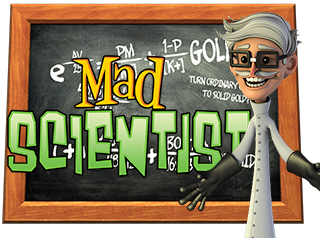 Mad Scientist Slot Game in the Lucky99 3D Casino
Overview
2 million years ago, in a land before time, the earth sat perfectly still. Until.. Women. Wanted. Diamonds. Now there's only one man determined enough and brave enough to take a journey of epic proportions. But be careful, seekers, because the jungle isn't always as safe as it seems. So grab a friend and join Oogh the Caveman in the adventure of a lifetime when you journey back to 2 MILLION BC.
Features
Bio Pick Me – Get 3 or more Bio Hazard symbols on an active payline in a winning combination to activate the bio pick me feature.
Tesla Coil Wild'o'Cution – When the Tesla Coil symbol occurs on reels 1 and 5 on paylines 1, 2 or 3 the Wild'o'Cution will occur! The Tesla coils will activate, shocking themselves and the symbols between them to instantly turn them into wild symbols, increasing your chances to win.
Great Experiment Bonus – 3 or more scattered Test Tube symbols in any position on any active payline triggers the Mad Scientist second screen bonus round. Join the Mad Scientist in his final test of his long awaited Turn To Gold serum! Select an object to test with the serum. Your winnings will be awarded once you have helped the scientist complete his tests!
Format
5-Reel, 30 Line Slot Machine.
RTP
The Max Theoretical RTP for this game is: 96.00%.
Min/Max Wager Amount:
The Minimum wager amount for this game is 1 coin and the Maximum wager amount is 150.
Number of Lines:
There are 30 lines in this slot game.
Number of BPL:
You can wager from 1-5 coins per line.
Coin Denominations:
The default coin denominations are 0.02, 0.05, 0.10, 0.25, 0.50 and 1.00.
Default Wager:
The default bet for this game is 0.10, 1 bet per line, maximum number of lines.
Default Resolution:
The default resolution for this game is 800 x 600.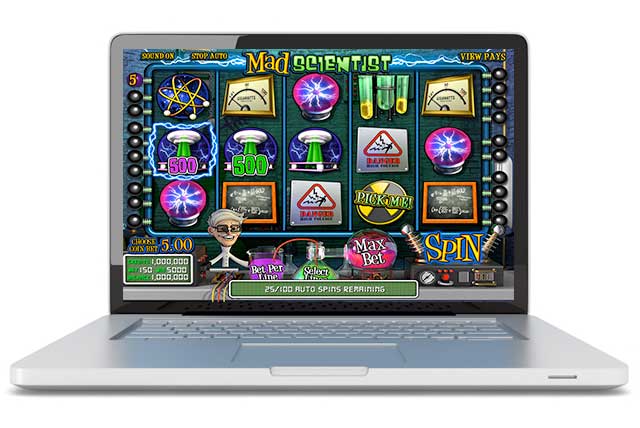 Button Descriptions
Bonus Overview – Gives a visual description of the Main Bonus round. (Note: Click on Back to Game to go back to the main game.)
AutoPlay – Actives continuous spins that are selected by # of Lines, Coin Value, Bet Per Line, and Number of Automatic Spins. The automatic spins continue until the Number of Automatic Spins is complete or the player stops it. To stop AutoPlay, click StopAuto.
View Pays – Information on Paylines, Features, and Bonus Round.
Previous – While in VIEW PAYS, button displays previous information page.
Return To Game – While in VIEW PAYS, button redirects player to the main game screen.
Next – While in VIEW PAYS, button displays next information page.
Choose Coin Bet – Clicking allows player to increase their coin played. You can select from the following coins: 0.02, 0.05, 0.10, 0.25, 0.50, and 1.00.
Bet Per Line – Allows player to increase their bet per line. You can select from the following line bets: 1, 2, 3, 4, and 5. After 5, the bet per line begins at 1 again.
Select Lines – Allows player to increase their number of lines played. You can select from the following number of lines: 1, 3, 5, 7, 9, 11, 13, 15, 17, 19, and 20. After 20, the number of lines begins at 1 again.
Max Bet – Activates a round with the selected Coin, 5 Bet Per Line, and 20 Lines. Total coins bet is 100.
Spin – Activates a round with selected Coin, Bet Per Line and number of Lines.