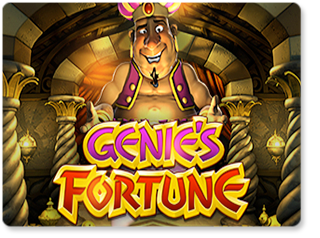 Genie's Fortune Slot Game in the Lucky99 3D Casino
Overview
Who doesn't like a good Genie, especially one that grants you THREE WISHES? But what will you choose… an endless amount of Wealth and Fortune? Fame beyond your wildest dreams? Or is it true, undying and passionate Love you seek? Don't fret; the good Genie will grant them all once you find him!
Features
Magic Carpet Ride Bonus – Receive a Magic Carpet symbol on any position on reel 1 to be awarded a Magic Carpet ride. From the carpets original position, the carpet will fly across the reels squashing symbols and creating 5 instant coin wins.
Click Me Crazy Bonus – Receive a Monkey symbol in position 2 on reel 3 to trigger the Click Me Crazy feature! Click on symbols around the monkey to reveal prizes! Continue to click until you reveal the "Collect" symbol, which will end the feature.
Treasure Chest Free Spins – Hit 3 or more Treasure Chest symbols to trigger Free Spins mode. 3 chests awards 5 spins, 4 chests awards 10 spins and 5 chests award 20 free spins! Additional free spins can be earned during free spins mode.
Genie Feature – Receive 3 or more Lamp symbols to trigger the second screen bonus round! Ask the genie for whatever your heart wishes and be showered with the rewards! Player is shown 6 wishes, and can choose to pick any 3 they want. Once all 3 wishes are picked, the player is awarded instant bonus coins.
Format
5-Reel, 30 Line Slot Machine.
RTP
The Max Theoretical RTP for this game is: 95.61%.
Min/Max Wager Amount:
The Minimum wager amount for this game is 1 coin and the Maximum wager amount is 300.
Number of Lines:
There are 30 lines in this slot game.
Number of BPL:
You can wager from 1-5 coins per line.
Coin Denominations:
The default coin denominations are 0.02, 0.05, 0.10, 0.25, 0.50 and 1.00.
Default Wager:
The default bet for this game is 0.10, 1 bet per line, maximum number of lines.
Default Resolution:
The default resolution for this game is 800 x 600.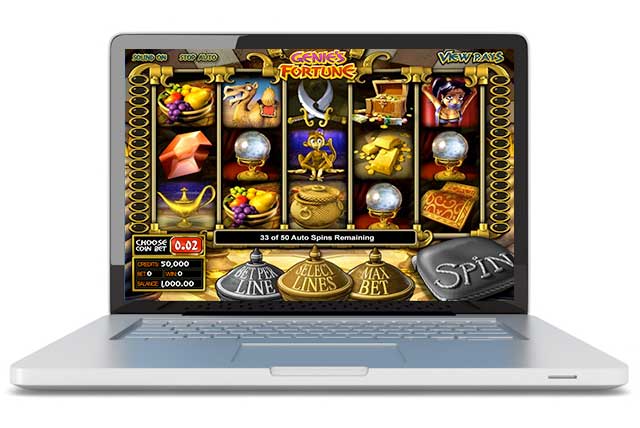 Button Descriptions
Sound On – Toggles sound on or off.
AutoPlay – Actives continuous spins that are selected by # of Lines, Coin Value, Bet Per Line, and Number of Automatic Spins. The automatic spins continue until the Number of Automatic Spins is complete or the player stops it. To stop AutoPlay, click StopAuto.
View Pays – Information on Paylines, Features, and Bonus Round.
Previous – While in VIEW PAYS, button displays previous information page.
Next – While in VIEW PAYS, button displays next information page.
Back – While in VIEW PAYS, button redirects player to the main game screen.
Choose Coin Bet – Clicking allows player to increase their coin played. You can select from the following coins: 0.02, 0.05, 0.10, 0.25, 0.50, and 1.00.
Bet Per Line – Allows player to increase their bet per line. You can select from the following line bets: 1, 2, 3, 4, and 5. After 5, the bet per line begins at 1 again.
Select Lines – Allows player to increase their number of lines played. You can select from the following number of lines: 1, 3, 5, 7, 9, 11, 13, 15, 17, 19, 21, 23, 25, 27, 28, 29, and 30. After 30, the number of lines begins at 1 again.
Max Bet – Activates a round with the selected Coin, 5 Bet Per Line, and 30 Lines. Total coins bet is 150.