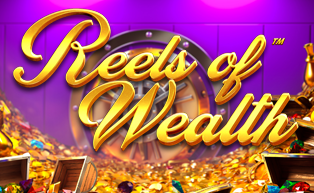 Reels of Wealth Slot Game in the 3D Casino
Reels of Wealth
Cash in on one of the most exciting new BIG WIN games of 2018 with Reels of Wealth. In this jewel toned, multi-feature new gem from Betsoft Gaming, players try their luck to earn the payday of a lifetime with the innovative new Megastar Jackpot mini game.
The game itself is built on a 'Rolling Wins' platform, awarding players a re-spin every time they win. Compounding the excitement of those free re-spins is the Rolling Wins multiplier, which can award up to three times the payout of a standard win, depending on the number of respins the player has already triggered. In addition to that, instead of a standard wild, Reels of Wealth uses an opulent multiplier wild, which will stack with other wilds for even BIGGER wins. Players also enjoy the luxury of not one but TWO scatter icons. One, the Vault of Wealth, pays immediately. The other - the MEGASTAR JACKPOT symbol -pays players in a much richer fashion.
When 3 or more MEGASTAR JACKPOT symbols appear anywhere on the reels the Megastar Jackpot mini-game begins. The reels change to the special Megastar Jackpot symbols surrounding players with gold and jewels worthy of such a momentous event. Utilizing the proprietary new 'Trail System', the Megastar Jackpot Feature allows players to collect special Jackpot symbols during Free Spins in an attempt to earn one of FOUR incredible jackpots. As the special jackpot symbols fall into place they EXPLODE, allowing other symbols to cascade onto the reels, and advancing their specific Jackpot trail. The Jackpots vary in size, from HERO to STAR to LEGEND to MEGASTAR, each requiring a different number of symbols to reach the GRAND PRIZE. Reels of Wealth gives players so many ways to win, they can bet on a rewarding experience, one way or another.
Features
MEGASTAR Free Spins
3+ MEGASTAR Symbols anywhere triggers the MEGASTAR free spins feature. MEGASTAR Free Spins are played on their own special MEGASTAR JACKPOT reels. Earn up to 25 free spins!
Rolling Wins Re-Spin & Multiplier
Every win awards a free respin! After the 3rd consecutive respin (4 spins in total including the first spin), the wins are multiplied, up to 3x the standard win!
MEGASTAR Jackpots
During the MEGASTAR Free Spins feature, you can win the MEGASTAR JACKPOTS. Each Jackpot has its own trail, ranging from 7 to 9 segments in length. With each spin, all jackpot symbols are removed from their reels to advance the jackpot trails. After the symbols are removed, the reels cascade and any further wins are calculated. The Trails are reset to zero at the end of the MEGASTAR feature.
Scatter Pays & Wild Multipliers
Any win that includes a wild symbol pays double. If there are two wild symbols in a winning line, the win will pay out 4x. Wild symbols occur on reels 2 and 4 only, and substitute for all symbosl except MEGASTAR and SCATTER.
The Scatter symbol pays in any position. The scatter win multiplies the total bet, up to 2000x!
Game Rules
- Reels of Wealth is a 5 Reel, 10 Line video slot machine game with a free spins feature, 4 progressive
jackpots, a re-spin on win with multiplier feature, a wild multiplier feature, scatter pays, and a double up
minigame.
- Game pays Left to Right, Right to Left, and Center Out.
- Only the highest paying win on a line will be paid.
- All payouts are multiplied by Line Bet.
- Jackpot Trails reset to zero at the end of the MEGASTAR free spins feature.
- WILD symbols appear only reels 2 and 4.
- Malfunction or misuse voids all pays and plays.
GENERAL GAME DETAILS
Game Type: Slots3 3D Slot
Reel Type: Standard Reels
Reels, Paylines: 5 Reels, 10 Paylines
Default Bets Levels: 1 - 5
Default Coin Values: 0.01, 0.02, 0.05,0.10, 0.25, 0.50, 1.00
Default Min/Max Bet: 0.10 / 100.00
Default Bet: 1.00
Game Name: Reels of Wealth
Release Date: April 28 2018
Number of Lines: 10 lines
RTP: 95.26%
Max Possible Win: 67.400 Coins
TECHNICAL DETAILS
Platform Availability: Desktop (HTML5); Mobile (HTML for iOS, Android, Windows & iPhone).
GameID(s): Desktop: 792, iPhone: 789, Android: 790, Windows: 791
Game Version: 1.0
Paytable Version: 1.0
Desktop Resolution: Recommended: 1280x720
Maximum: 1920x1080
Min Recommended: 1067x600
Mobile Resolution: 1067x600
Jurisdictions: Malta
Total Download Size: 20.6 MB (Desktop) 9.7 MB (Mobile)
Initial Download Size: 12.3 MB (Desktop) 5.7 MB (Mobile)
Desktop Est. Load: 30 Seconds @ 5Mbps
Mobile Est. Load: 21 Seconds @ 3G Speeds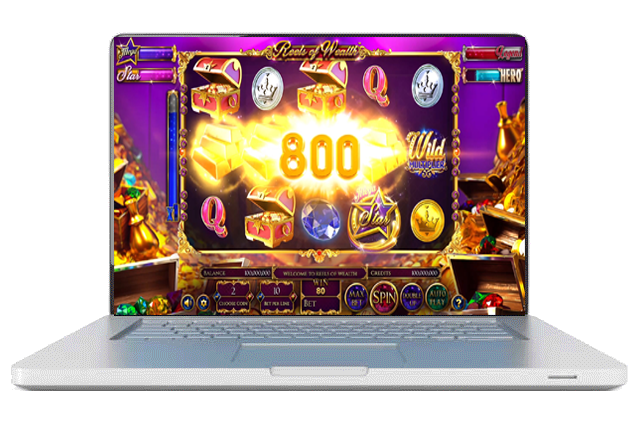 Button Descriptions (Computer)
Sound On - Toggles sound on or off.
View Pays - Information on Paylines, Features, and Bonus Round.
Previous - While in VIEW PAYS, button displays previous information page.
Return To Game - While in VIEW PAYS, button redirects player to the main game screen.
Next - While in VIEW PAYS, button displays next information page.
Choose Coin - Clicking allows player to increase their coin played. You can select from the following coins: 0.02, 0.05, 0.10, 0.25, 0.50, and 1.00.
Select Line - Allows player to increase or decrease their number of lines played. You can select from the following number of lines: 1, 3, 5, 7, 9, 10, 12, 14, 16, and 18.
Bet Per Line - Allows player to increase or decrease their bet per line. You can select from the following line bets: 1, 2, 3, 4, and 5.
Spin - Activates a round with selected Coin, Bet Per Line and number of Lines.
Max Bet Spin - Activates a round with the selected Coin, 5 Bet Per Line, and 18 Lines. Total coins bet is 90.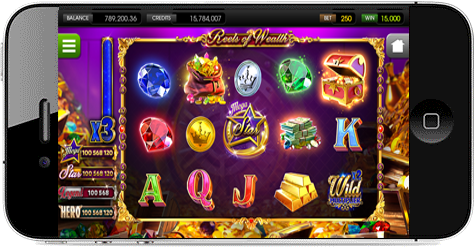 Button Descriptions (Mobile)
Spin - Activates a round with selected Coin, Bet Per line and number of Lines.
Home - Takes you back to the main mobile games page.
Back- Takes you back to the main game screen from the paytable, bet parameters, or autoplay configuration screens.
Options - Tapping the green button will open the options menu.
Sound - This sw itch toggles th e sound on and off.
Bet - Takes you to the bet control page.
Paytable - Shows the game paytable.
Autoplay - This button will take you to the autoplay settings.
Stop Auto - This button will stop the current autoplay cycle.
Start Auto - This button will start th e current autoplay cycle.
Cancel Auto- This button will cancel the autoplay currently in use.
Skip - This button will skip any animated feature.