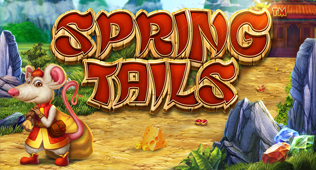 Spring Tails Slot Game in the 3D Casino
Celebrate the Year of the Rat in style and experience bountiful fun in SPRING TAILS, the new video slot from Betsoft Gaming. An adorable rat character will guide you through an experience that includes stacking multipliers & an exciting FREE SPINS MODE!
A new year brings prosperity and luck, and there's plenty to be found in SPRING TAILS. Enjoy the LUCKY RAT MULTIPLIER WILDS, which can appear on reels 2, 3, and 4. Put some spring in your step, as multipliers can stack, which can add up to a total multiplier of 60x, bringing you super wins. If that wasn't enough, the GOLDEN KEY symbol can appear anywhere on the reels, which will trigger a free spins mode. 12 free spins, MEGA potential, as all low-value symbols will be removed for the duration of the mode.
Start off your new year right with the blessing of the rat in SPRING TAILS!
Game Features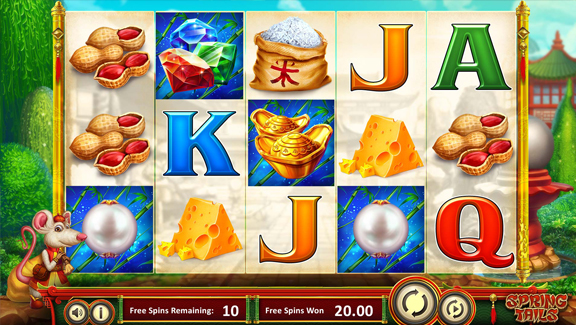 • SPRING TAILS
Is a 5-reel, 5-payline slot featuring high volatility and exciting WILD action.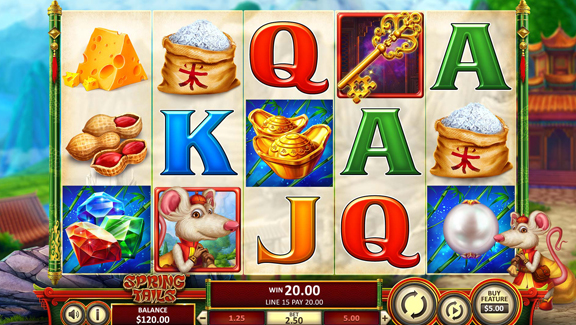 • LUCKY RAT MULTIPLIER WILDS
Each wild can be 3x, 4x or 5x, which will be added to any wins that include that multiplier symbol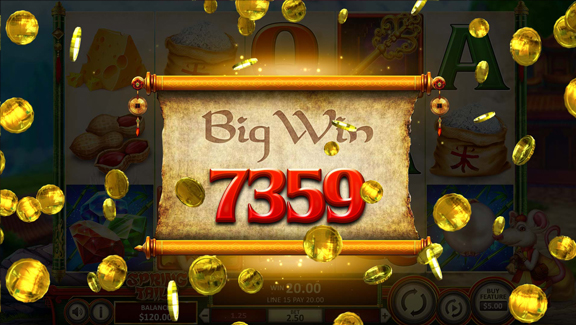 • GOLDEN KEY FREE SPINS
Collect 3 Golden Key symbols anywhere on the reels to trigger 12 free spins with all low-value symbols removed.
GENERAL GAME DETAILS
Game Name: Spring Tails
Release Date: February 27, 2020
Game Type: Video Slot
Reel Type: Standard Reels
RTP: 95.84%
Volatility: Very High
Reels, Paylines: 5 Reels, 5 Paylines
Default Bet Amounts: c 0.05, 0.10, 0.20, 0.30, 0.40, 0.50
Default Bet: c 0.10
Default Min/Max Bet: c 0.05/0.50 / Max Bet adjustable per reques
Max Win Factor: 300364.2 x bet
Maximum Exposure: c 150182.1
Base Game Hit Rate: 9.65%
Hit Rate in Free Spins: 16.21%
Free Spins Trigger Chance: 1 in 187.23
Big Win Chance 1 in 284.4
Huge Win Chance 1 in 581.17
Mega Win Chance 1 in 702.81
TECHNICAL DETAILS
Platform Availability: Desktop, Mobile (iPhone, Android, Windows)
GameID(s): 816
Game Version: 1.0
Paytable Version: 1.0
Desktop Resolution: Min Recommended: 1280x720
Mobile Resolution: Min Recommended: 960x540
Jurisdictions: Malta (TBA)
Total Download Size: 26.5 MB (Desktop) 18.4 MB (Mobile)
Initial Download Size: 15.9 MB (Desktop) 10 MB (Mobile)
Desktop Est. Load: 10.76 sec @ 5Mbps
Mobile Est. Load: 34.13 sec @ 3G Speed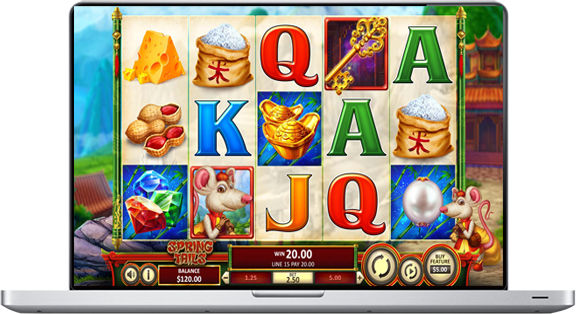 Button Descriptions (Computer)
Sound On - Toggles sound on or off.
View Pays - Information on Paylines, Features, and Bonus Round.
Previous - While in VIEW PAYS, button displays previous information page.
Return To Game - While in VIEW PAYS, button redirects player to the main game screen.
Next - While in VIEW PAYS, button displays next information page.
Choose Coin - Clicking allows player to increase their coin played. You can select from the following coins: 0.02, 0.05, 0.10, 0.25, 0.50, and 1.00.
Select Line - Allows player to increase or decrease their number of lines played. You can select from the following number of lines: 1, 3, 5, 7, 9, 10, 12, 14, 16, and 18.
Bet Per Line - Allows player to increase or decrease their bet per line. You can select from the following line bets: 1, 2, 3, 4, and 5.
Spin - Activates a round with selected Coin, Bet Per Line and number of Lines.
Max Bet Spin - Activates a round with the selected Coin, 5 Bet Per Line, and 18 Lines. Total coins bet is 90.