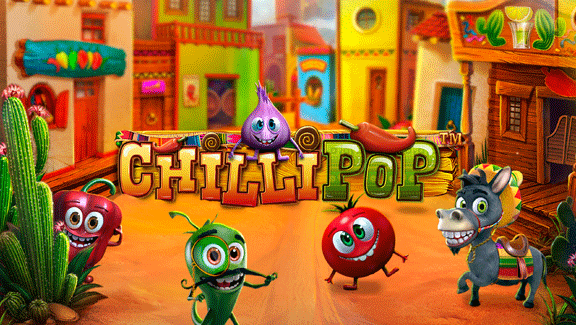 Play Chilli Pop Slot Game in the 3D Casino
Overview Play of ChilliPop Slot Game
Spice things up with Chillipop, the cluster-based, cascading slot game with a secret ingredient: an expanding grid offering explosive new ways to win.
From the Mariachi soundtrack to the potent chilli symbols, Chillipop is suffused with the spirit and sizzle of Mexican cuisine. Players try to assemble the perfect salsa, matching symbols like tomatoes, onions, garlic, and red, yellow, and green peppers to create the tastiest (and top-paying) combinations.
Like the sauce itself, things can heat up quickly in Chillipop; any configuration of 3 or more adjacent symbols pays out, and as items are added to the pot, new symbols cascade down to replace them. Coupleb this with the wild piñata symbol - which can substitute for any ingredient, as well as creating stacked multipliers when several appear on-screen - and players can create maximum flavour from a single spin.
The fiesta gets into full swing with the Free Spins feature, triggered by 3 or more pack mule scatter symbols appearing at once. Over an allocation of between 5 and 26 free spins, Chillipop then uses Betsoft's proprietary ' trail system' to track the number of sombrero-sporting mules that players collect, with set milestones expanding the size of the cooking pot even further. From an initial 5x3 grid, the Free Spins feature can grow the playing area to a massive 8x8, with the new dimensions dramatically increasing the number of paylines.
GENERAL GAME DETAILS
Game Type: Slots3™ Video Slot
Reel Type: Cascading Reels
Reels, Paylines: 5 Reels, Cluster Pays
Default Line Bets: 0.01, 0.02, 0.05,0.10, 0.25, 0.50, 1.00
Default Min/Max Bet: 0.50 / 50.00
Default Bet: 2.50
Game Name: ChilliPop
Release Date: November 23 2018
Number of Lines: Cluster Pays
RTP: 96.08%
Max Possible Win: 103,363 Coins
TECHNICAL DETAILS
Platform Availability: Desktop (HTML5); Mobile (HTML for iOS, Android, Windows & iPhone).
GameID(s): Desktop: 800, iPhone: 800, Android: 800, Windows: 800
Game Version: 1.0
Paytable Version: 1.0
Desktop Resolution: Recommended: 1280x720
Maximum: 1920x1080
Min Recommended: 1067x600
Mobile Resolution: 1067x600
Jurisdictions: Malta
Total Download Size: 15.8 MB (Desktop) 4.8 MB (Mobile)
Initial Download Size: 10.9 MB (Desktop) 3.3 MB (Mobile)
Desktop Est. Load: 26 Seconds @ 5Mbps
Mobile Est. Load: 18 Seconds @ 3G Speeds
Game Rules
• ChilliPop is a 5 Cascading Reel Cluster Pays Video Slot with wild symbols with stacking multipliers, a free spins mode with expanding grid, and a double up minigame.
• Game pays on clusters of 3 or more symbols.
• All symbols pay per symbol in a winning cluster.
• All cluster wins explode except the Mule cluster. New symbols drop into place and award additional wins.
• Pinata Symbol is wild and substitutes for all symbols except for the Mule symbol.
• Each Cluster Win is multiplied by the number of pinata symbols that are part of the winning cluster +1.
• All winning symbols explode, remaining symbols drop down, and new symbols drop in to fill the spaces. New wins are calculated and the process repeats until there are no new wins.
• Only the highest paying win in a cluster will be paid.
• Malfunction or misuse voids all pays and plays.
FEATURES
Piñata wilds
A fiesta favourite, the stuffed piñata serves as the wild symbol, standing in for any other basic ingredient.

Piñata stacked multipliers
The first piñata multiplies the payout of a winning cluster by 2x, with each additional wild cooking up a further +1 to the multiplier in an ongoing stack.

Free Spins
The humble pack mule, carrying ingredients, triggers the exciting Free Falls feature when it appears in quantities of 3 or more. Up to 15 can appear at once, awarding a max of 26 free spins.

Expanding Grid
Players collect mules during free spins to expand their cooking pot, with milestones set at intervals between 5 and 70.
CONTROLS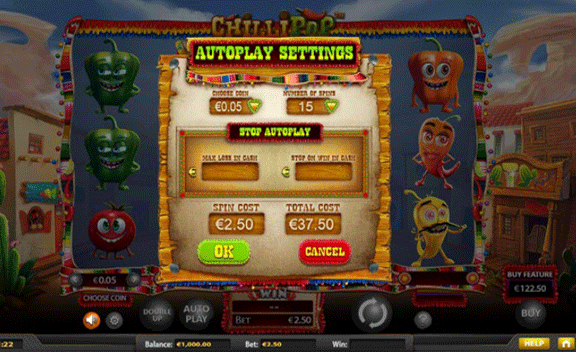 Auto Play: Opens the AUTOPLAY menu where you can configure and engage AUTOPLAY mode.
Line Bet: Sets the coin denomination to play per spin during AUTOPLAY mode.
Number of Spins: Sets the number of spins to automatically play during AUTOPLAY mode.
Max Loss In Cash: Configures AUTOPLAY mode to stop if the specified amount of money is lost.
Stop On Win In Cash: Configures AUTOPLAY mode to stop if the specified amount of money is won.
Cancel: Closes the AUTOPLAY menu without starting AUTOPLAY mode.
OK: Closes the menu and starts AUTOPLAY mode with the configured parameters.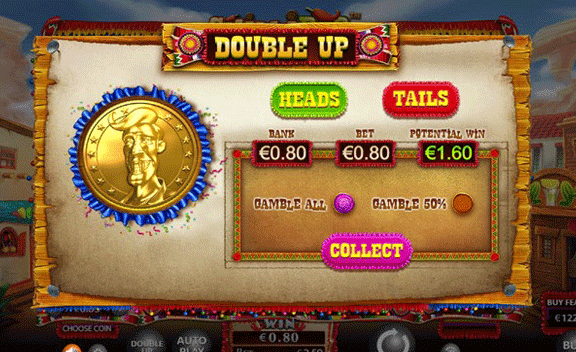 Double Up: Opens the Double or Nothing Minigames (as permitted by game rules).
Heads: Wagers your current winnings that the next coin flip will be HEADS.
Tails: Wagers your current winnings that the next coin flip will be TAILS.
Gamble All/Gamble 50%: Sets your stake to either all or half of your winnings.
Collect: Collects your current winnings and ends the DOUBLE UP game.
PAYTABLE INFO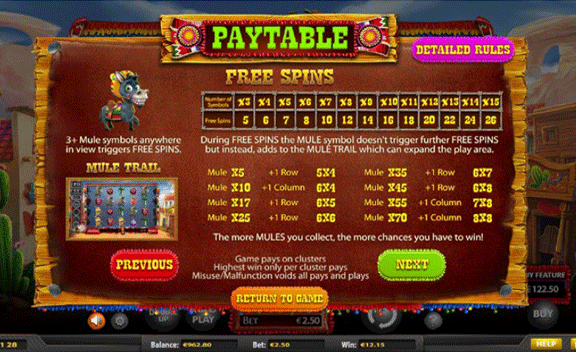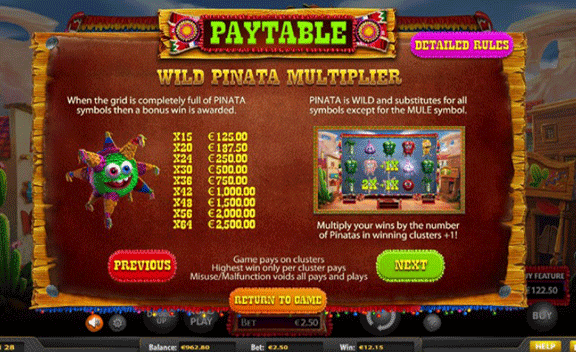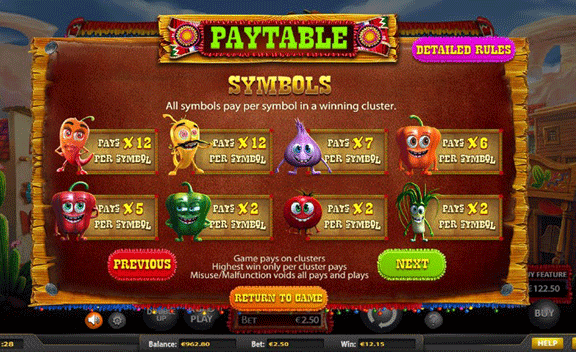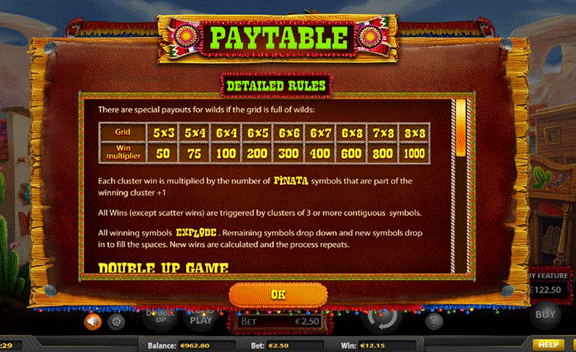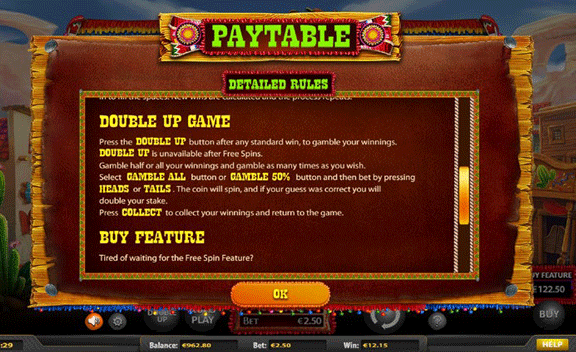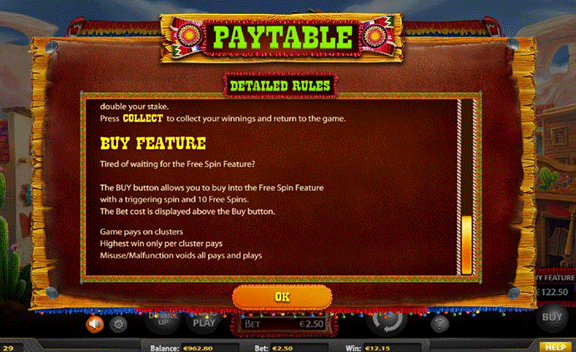 Game Window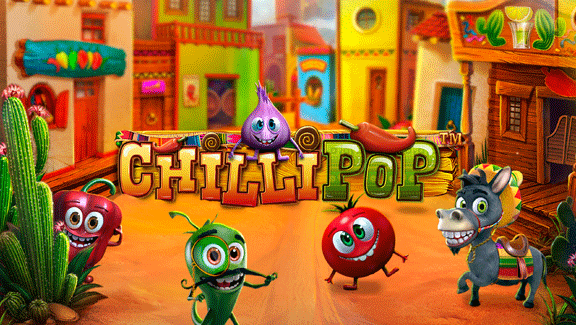 [Mouse Symbol] (Crosshair)
The player's cursor acts as the crosshair of their weapon. If the crosshair hovers over an enemy target, that target will be highlighted by a golden ring of light, indicating that it is being aimed at specifically.
[Left Mouse Button icon] (Fire Weapon)
Fires the current weapon at the location indicated by the crosshair. If no enemy target is present at the location of the crosshair, the bullet will bounce around until it hits an enemy target.
Holding this button down allows for continuous fire until the button is released.
[+Bullets] (Bullet Cashier)
Opens the 'Buy Bullets' panel, where additional bullets can be purchased. When engaged in a game round, players can purchase additional bullets from either their Cash Balance, or their current winnings from the round. If there aren't enough funds in the current winnings to cover the purchase, the remainder will be taken from the player's balance.
[+Weapon] Buy Weapon
Opens the 'Buy Special Weapons' panel. Treasure boxes containing a special weapon can be purchased with cash. The special weapon received is determined at random and is awarded with more bullets than the special weapons dropped by enemies.
Leaderboard
Opens the Leaderboard Panel. Note: Gameplay continues in background.
[Person Icon] (Customize Avatar)
Opens the Avatar Customization Panel. Note: Gameplay continues in background.
[Gear Icon] (Settings)
Opens the Settings Panel. Note: Gameplay continues in background.
[Speaker Icon] (Sound)
Turns all sounds off or on.
[Back Arrow] (Back)
Leaves the room and returns to the game lobby.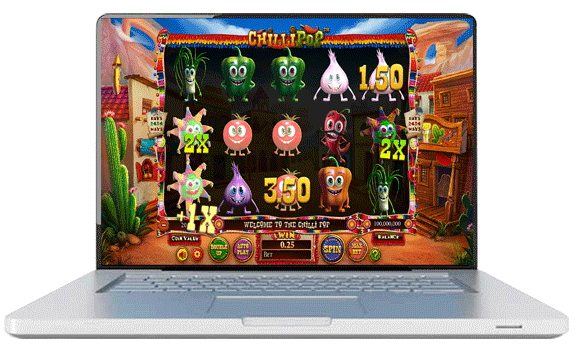 Button Descriptions (Computer)
Sound On - Toggles sound on or off.
View Pays - Information on Paylines, Features, and Bonus Round.
Previous - While in VIEW PAYS, button displays previous information page.
Return To Game - While in VIEW PAYS, button redirects player to the main game screen.
Next - While in VIEW PAYS, button displays next information page.
Choose Coin - Clicking allows player to increase their coin played. You can select from the following coins: 0.02, 0.05, 0.10, 0.25, 0.50, and 1.00.
Select Line - Allows player to increase or decrease their number of lines played. You can select from the following number of lines: 1, 3, 5, 7, 9, 10, 12, 14, 16, and 18.
Bet Per Line - Allows player to increase or decrease their bet per line. You can select from the following line bets: 1, 2, 3, 4, and 5.
Spin - Activates a round with selected Coin, Bet Per Line and number of Lines.
Max Bet Spin - Activates a round with the selected Coin, 5 Bet Per Line, and 18 Lines. Total coins bet is 90.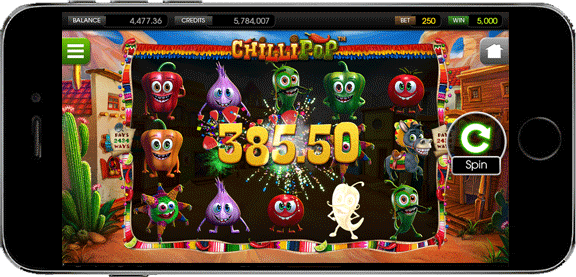 Button Descriptions (Mobile)
Options Menu – Tapping the Green Button in the upper right corner of the game screen will summon the Options Menu, where you can toggle sound off/on, adjust your bet parameters, or view the paytable.
Sound – This switch toggles the audio on or off.
Bet – Takes you to the bet settings control page. From this page you can change all your bet parameters using the sliding controls on the page.
Paytable – Shows the paytable for the game.
Autoplay – This button will take you to the autoplay menu where you can adjust the number of spins and disable/enable Quick Spin Mode and Autoplay Mode.
Stop Auto – This button will stop the game from automatically spinning the reels until either the Start Auto button or Cancel Auto buttons are pressed.
Start Auto – This button will start the autoplay mode, causing the game to spin the reels the designated number of times with the current bet parameters.
Cancel Auto – This button will terminate Autoplay mode, returning the game to manual play mode.
Spin – Activates a round with selected Coin, Bet Per Line and number of Lines.
Spin (Mini slot bonus) – During mini-slot bonus, this button will spin the minislot reels.
Spin (Moneywheel Bonus) – During Money Wheel bonus, this button will spin the Money Wheel.
Roulette Table (Roulette bonus) – During Roulette bonus, you will be prompted to tap any 3 numbers on the roulette table. Once 3 numbers are chosen, the roulette wheel will spin automatically.
Home – Takes you back to the main mobile games page.
Back – Takes you back to the main game screen from the paytable, bet parameters, or autoplay configuration screens.