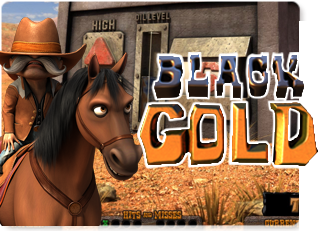 Black Gold Game in the Lucky99 3D Casino
Overview
'Ye've struck GOLD! BLACK GOLD!' Join Ol' Bill, a Texas billionaire with a special gift for sniffing out large deposits of oil as you play this classic Slots3 title. Bringing the rustic beauty of the Texas prairie to you in true 3D, BLACK GOLD will take you on an adventure where the potential for winnings is as endless as the oil beneath the earth.
Theme & Visuals
Black Gold features Ol' Bill, a genuine Texas Billionaire with a nose for finding that rich crude treasure beneath the earth. Set in a rustic prairie environment, players will join Ol' Bill and his trusty steed in the search for even more of that glorious Texas Tea. Big blue skies and warm red earth tones fill the environment, along with chrome and worn metallic hues give this game a warm, colorful feel. The rustic visuals and gushing oil make it feel like the player is right there on the old prairie.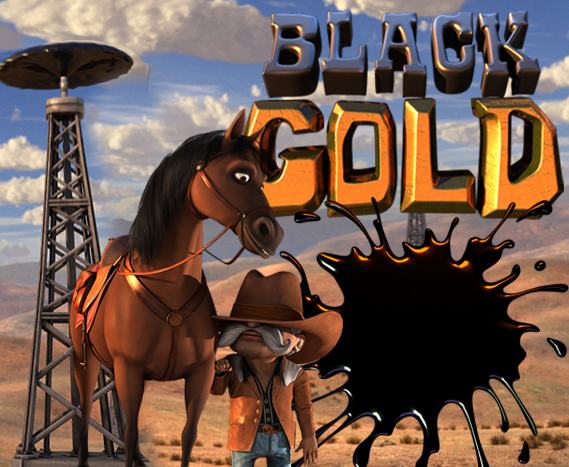 Features
Nighttime Free Spins Mode
Receive 3 or more BARN symbols anywhere on the reels to trigger the Nighttime Free Spins Mode.
During free spins, the BARN symbol acts as a wild symbol and multiplies any win it is involved in.
The multiplier increases each time the symbol occurs successfully in a win, up to a maximum of 10x.
Respins are not triggered during free spins mode.
Drilling For Oil Click Me
Receive 3 or more DRILL symbols anywhere on the reels to trigger the Drilling for Oil Click Me feature. Players are prompted to click on one of the 3 DRILL symbols to reveal an instant bonus money prize.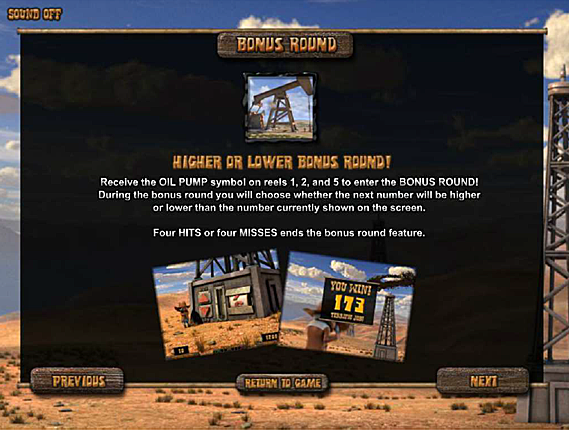 Higher or Lower Bonus Round
Occur on reels I, II and V. Receive 3 OIL PUMP symbols on reels 1, 2, and 5 to trigger the Higher or Lower Bonus Round.
During the bonus round, the player is prompted to guess whether the next number displayed will be higher or lower than the currently displayed number.
Four hits or four misses ends the bonus round feature.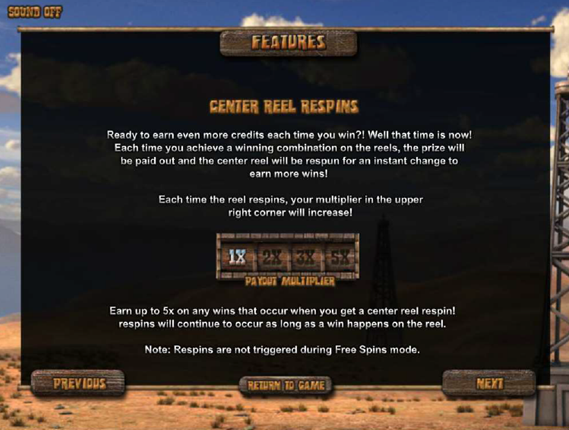 Center Reel Respins Feature
During normal play, each time the player receives a winning combination on the reels, the prize will be paid out and then the center reel will automatically respin for free, giving the chance for even more wins.
Additionally, a stacking payout multiplier is applied for the first respin, and if it wins the multiplier will increase, up to a max of 5x, and the center reel will respin again for free. If the respin results in a win, the player wins another free center reel respin until the respin does not result in a win.
The multiplier will also be reset to 1x after the center reel respin does not win.
Paylines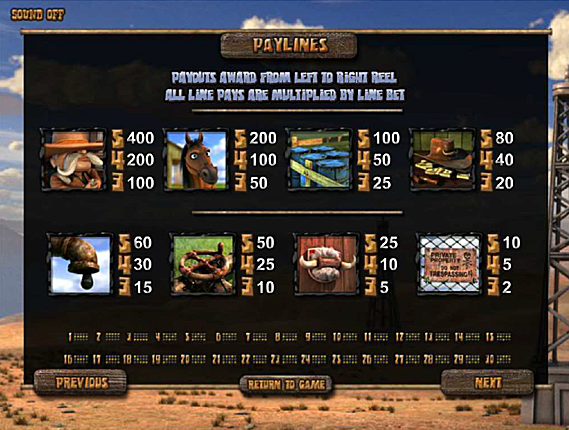 Game offers 30 paylines.
Game Rules
Black Gold is a 5 reel, 30 line standard video slot featuring scatters, wilds and a second screen bonus round.
Game is played with 1-5 bets per line, betting from 1-100 credits.
Winning combinations and payout information can be found in the PAYTABLE tab.
Game pays from leftmost reel.
OIL PUMP symbols occur on reels I, III and III. BARN and DRILL symbols occur on any reel.
Return to Player (RTP)
Total Game: 94.31%
Paid Games: 70.64%
Free Games: 5.05%
Bonus Game: 18.63%
General Game Details
Game Type: Slots3 Video Slot
Reel Type: Standard Spinning Reels
Reels, Paylines: 5 Reel, 30 Pay Lines
Default Bets Per Line: 1-5
Default Coin Values: 0.02, 0.05, 0.10, 0.25, 0.50, 1.00
Default Min/Max Bet: 0. 02 / 300.00
Default Bet: 3.00 (0.10 coin, 5 credits per line)
Technical Details
Platform Availability: Desktop (Flash); Mobile (HTML for iOS, Android, Windows Phone)
Game ID: Flash: 256; iOS: 601; Android: 602; Windows Phone: 603
Game Version: 1.0
Paytable Version: 1.0
Desktop Resolution: Recommended: 800*600
Maximum: 1920x1080
Minimum Recommended: 800x600
Mobile Resolution: 1067x600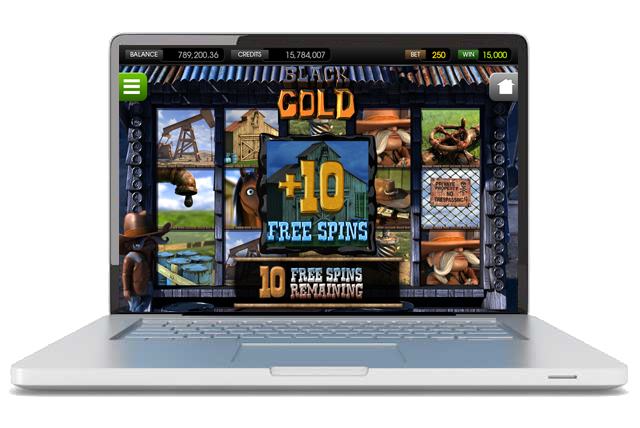 Button Descriptions
Help - Displays information on Game Rules, Payouts and Tips and Controls.

Sound Off - Toggles sound on or off.

Chip (separate chip denominations) - Select which Chip Denomination you chose to bet with. Each bet made on the table will be with the selected Chip Denomination.

Bet Options on the Table - Once desired Chip has been selected, click on any bet option on the table to place your chip on that bet. You must press the Deal button after you have made all of your bet selections to start the round. You have several options to bet. Please see Game Rules under the Help button for more information on bets.

Deal - Starts the game after bets have been placed. The player and dealer will both be dealt their first cards.

Ride - Allows you to double your wager and proceed to the showdown phase of the round.

Stand - Allows you to keep your current wager and proceed to the showdown phase of the round.

Repeat - Automatically places the previous rounds wagers onto the table and starts the next round of play.

Clear - Clears all bets and cards that are currently on the table.