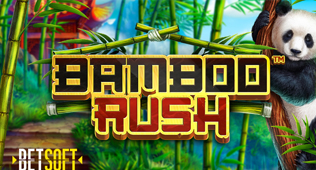 Bamboo Rush Slot Game in the 3D Casino
Brush aside the bamboo stems, take the mountain path, and discover a secret garden filled with endless opportunities in BAMBOO RUSH - the new 5X4 slot game from Betsoft Gaming.
BAMBOO RUSH boasts 40 paylines that pay from left to right. As well as standing in for any other symbol in the base game, wilds also award multipliers of 2X or 3X during free spins, with a combined maximum of 27X the winning value per payline. Wilds can only appear in reels 2 to 4.
Seek out the treasured Golden Panda scatter to trigger BAMBOO RUSH's free spins feature, where you can win up to 20 free spins straight from the start, and the potential to uncover even more of them! All symbols are stacked during the base game and free spins except for the scatter, which can lead to wins of up to 53000x in a single spin!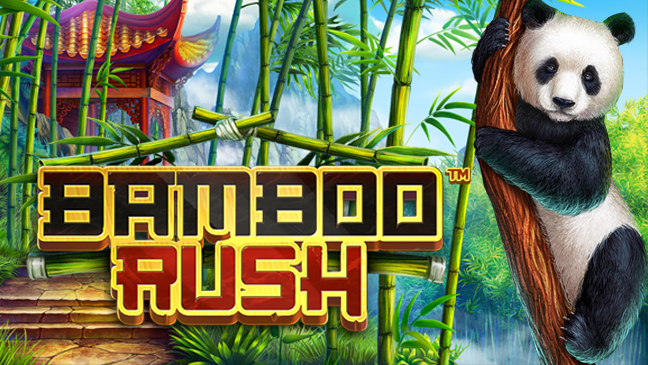 Features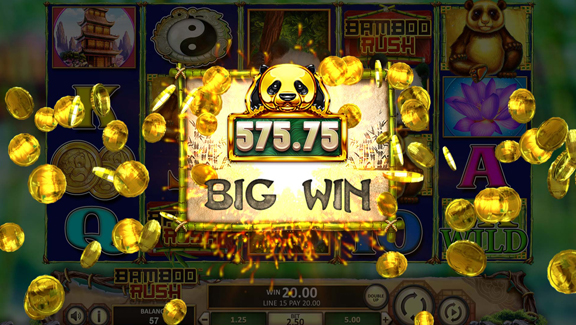 BAMBOO RUSH
is a 5 Reel, 40 Paylines slot with a free spins feature, wild multiplier and a double up bonus round.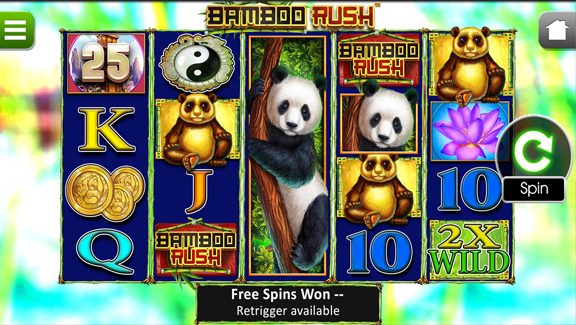 FREE SPINS
During free spins, all wilds have multipliers, the chances of high value panda symbols appearing are increased and ADDITIONAL free spins can be earned.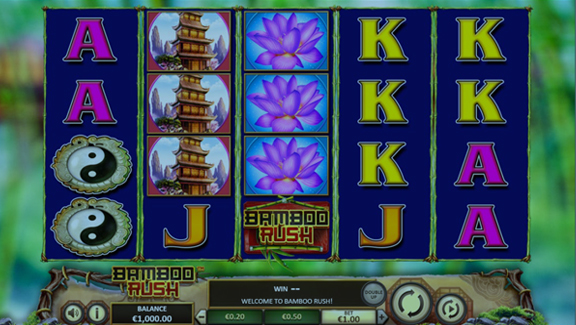 WILDS
Wild symbols count as any other symbol, except the FREE SPINS symbol. During FREE SPINS, all wild symbols will each award a multiplier of 2x or 3x! Combine 3 '3x' wild symbols and any wins that occur from that combination will by multiplied by 27x! (3x3x3).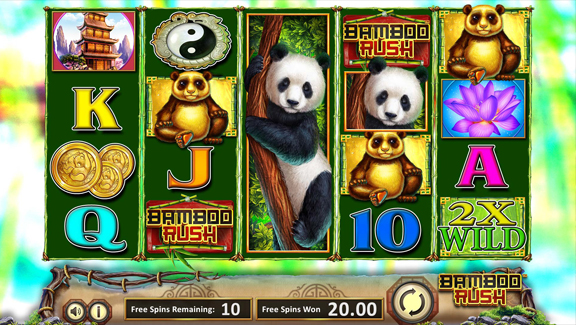 DOUBLE UP
After any standard win you can choose to gamble your winnings by playing the double up mini game. Guess whether the next coin toss will be heads or tails and you could double what you wagered!
GENERAL GAME DETAILS
Game Type: Video Slot
Reel Type: Standard Reels
Reels, Paylines: 5 reels, 40 paylines
Default Bets Amounts: 0.20, 0.40, 0.60, 0.80, 1.00, 2.00, 3.00, 4.00, 5.00, 10.00, 20.00
Default Min/Max Bet: 0.20 / 20.00
Default Bet: 2.00
Game Name: Bamboo Rush
Release Date: September 10, 2019
Volatility: Medium-high
RTP: 96.90%
Max Win Factor: 53208 x wager
Hit Freqs. in Base Game: 11.98%
Hit Freqs. in Free Spins: 25.56%
Free Spins Hit Freqs.: 0.74%
Chance of 100x Win: 1 in 1.758
Chance of 1000x Win: 1 in 25.339
Big Win Chance: 1 in 311
Huge Win Chance: 1 in 1.010
Mega Win Chance: 1 in 42.003
TECHNICAL DETAILS
Platform Availability: Desktop, Mobile (iPhone, Android, Windows)
GameID(s): 806
Game Version: 1.0
Paytable Version: 1.0
Desktop Resolution: Min Recommended: 1280x720
Mobile Resolution: Min Recommended: 960x540
Jurisdictions: Malta (Pending)
Total Download Size: 12.3 MB (Desktop) 7.8 MB (Mobile)
Initial Download Size: 8.3 MB (Desktop) 6.2 MB (Mobile)
Desktop Est. Load: 19 Seconds @ 5Mbps
Mobile Est. Load: 26 Seconds @ 3G Speeds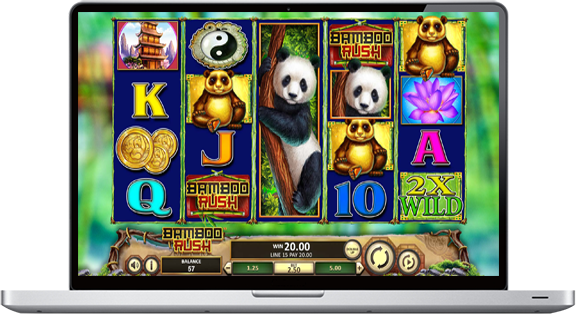 Button Descriptions (Computer)
Sound On - Toggles sound on or off.
View Pays - Information on Paylines, Features, and Bonus Round.
Previous - While in VIEW PAYS, button displays previous information page.
Return To Game - While in VIEW PAYS, button redirects player to the main game screen.
Next - While in VIEW PAYS, button displays next information page.
Choose Coin - Clicking allows player to increase their coin played. You can select from the following coins: 0.02, 0.05, 0.10, 0.25, 0.50, and 1.00.
Select Line - Allows player to increase or decrease their number of lines played. You can select from the following number of lines: 1, 3, 5, 7, 9, 10, 12, 14, 16, and 18.
Bet Per Line - Allows player to increase or decrease their bet per line. You can select from the following line bets: 1, 2, 3, 4, and 5.
Spin - Activates a round with selected Coin, Bet Per Line and number of Lines.
Max Bet Spin - Activates a round with the selected Coin, 5 Bet Per Line, and 18 Lines. Total coins bet is 90.